Vegan (and totally yummy) Fourth of July Recipes
It's gotten harder to do summer picnics without hot dogs...
On This Day
512: A solar eclipse is recorded by a monastic chronicler in The Chronicle of Ireland. During the 6th century, 251 solar eclipses were recorded. This handy map from NASA shows the path of the June 29th 512 eclipse. If this map is accurate, the monastic chronicler in Ireland would've seen a partial eclipse.
1540: Thomas Cromwell was indicted as a heretic. He was condemned to death without trial and publicly beheaded on July 28th 1540, the same day Henry VIII married his 5th wife Catherine Howard (who would also end up beheaded).
1613: And speaking of Henry VIII, on this day in 1613, Shakespeare's Globe Theatre burned to the ground during a performance of Henry VIII when a misdirected cannon set the thatched roof ablaze. The theatre's remains were rediscovered in 1989.
"The person who tells you you are oppressed is the one who tells you what your limits are." - Nestride Yumga
Morning Jam
One of my guilty pleasures is listening to rap in other languages. Really, I love learning languages and listening to music in other languages, as well as watching foreign TV. If it's got to do with another language, I'm probably all over it. So it's not really surprising that I find the concept of foreign rap to be absolutely fascinating.
Since 2016 I've been following the creative evolution of French rapper Yoshi Di Original, and I am really digging how he's growing and evolving.
This song, J'aime ça, came out about 8 months ago at the time of this writing, and it is pretty fucking fantastic. You can listen here on YouTube.
Road trip, anyone?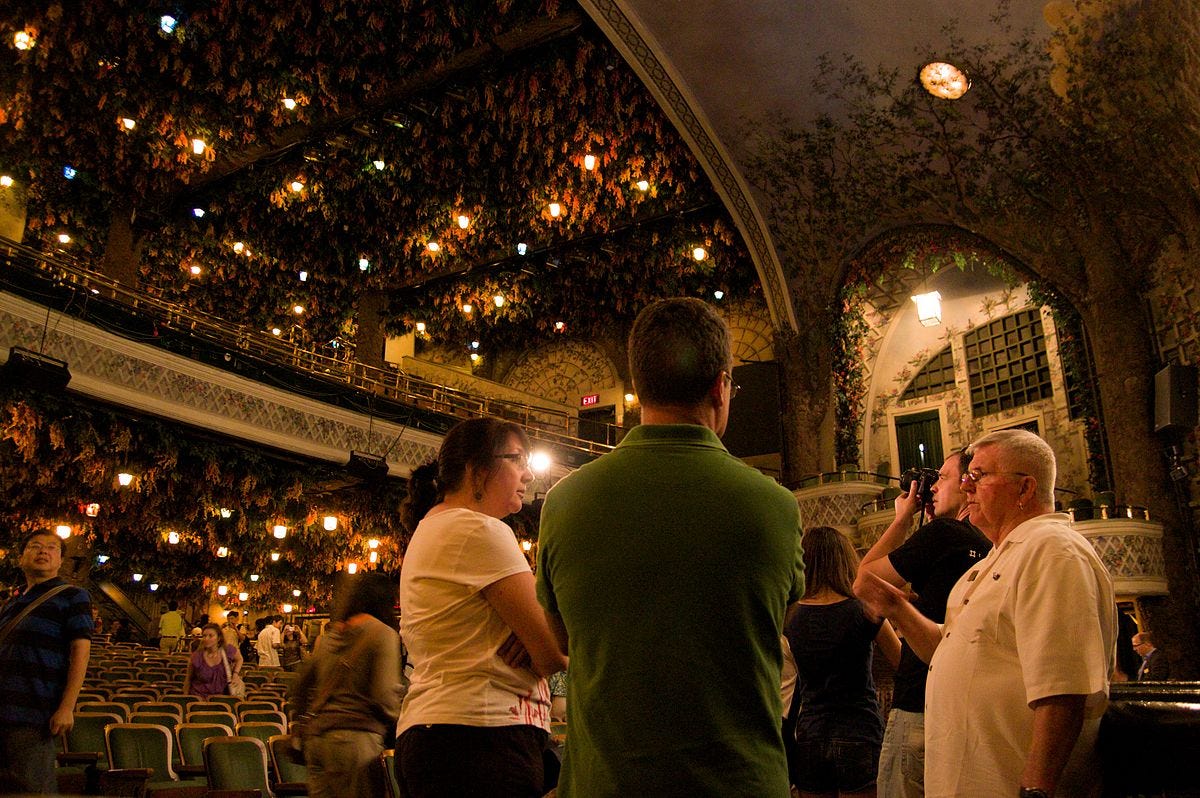 The Elgin and Winter Garden Theatres are a pair of Edwardian stacked theatres in Toronto. In fact, they are the last surviving Edwardian stacked theatres in the world.
"Originally built to stage variety performances known as vaudeville, by the 1920s the rise of the film industry had reduced the popularity of the genre," said Atlas Obscura. "Reacting to lower audience numbers, the Elgin Theatre was converted into a cinema. In 1928, however, after just 15 years in operation, the doors to the Winter Garden were simply locked. They would remain shut for the next 53 years."
Read more about the Winter Garden Theatre here.
Tasty Vegan Fourth of July Recipes
The Fourth of July is one of my favourite holidays. I love celebrating our nation's independence. I love the food, and the festivals, and I am all about the sky booms.
But things have changed for me a little bit since going vegan. I can no longer eat 90% of what's on offer at the carnival, nor can I eat literally anything my family cooks up for the picnic. So over the years I've had to get creative with my Fourth of July menu.
Here's what I'm cooking up this year.
Cauliflower "Chicken" Wings
Photo + recipe from Vegan Heaven.
I have tried (and failed) to make cauliflower chicken wings about a million times. Until I found this recipe. This recipe actually works, and it is a real game changer. I personally love me some chicken wings and have missed them immensely ever since I gave up meat.
While this recipe is not 100% identical to chicken wings, it's pretty darn close.
BBQ Chickpeas Pizzas
Photo + recipe from My Darling Vegan.
This BBQ Chickpeas Pizza is made with homemade BBQ sauce, fresh pineapples, and jalapeños and covered in ranch dressing for a delicious vegan pizza.
Summer Rolls
Photo + Recipe from One Arab Vegan.
Oh, I love me some summer rolls. They're the perfect picnic food as they're all self-contained in their little wrappers, and devoid of cooking.
Traditional Gazpacho
Photo + recipe from My Darling Vegan.
This traditional gazpacho is made with fresh vegetables and topped with homemade croutons for a light and refreshing dish. Made in under 10 minutes, this delicious summery recipe keeps in the fridge overnight so you are ready to go on July 4th.
1 Bowl Vegan Gluten-Free Chocolate Cake
https://www.youtube.com/watch?v=QvPuVsyVo7o
This EASY 1-bowl cake is 100% vegan, gluten-free, oil-free, refined sugar-free, grain-free, and 1000% delicious. Yes, dreams do come true.
Quick Bites
1. Coca-Cola joins the Facebook advertising ban! Woohoo! Dashlane has joined as well, and they're ceasing all paid and organic posts on Intagram and Facebook for the month of July. Facebook's share price has dropped by 8%. Maybe now Facebook will pay attention and change the way they do business. I'm still planning to disable my personal account by the end of July.
2. When we think of an empath, we usually think of an emotional empath, but empaths come in a few different, uhm...flavours, shall we say (like quarks). I, for one, am an intuitive empath, and highly susceptible to the negative energy of others. Learn more about the different empath flavours here.
3. Colorado passes sweeping reforms to policing and cracks down on qualified immunity. This bill includes a number of major reforms for police, "including a ban on the use of chokeholds. Perhaps most notably, "the law ensures that police officers in Colorado will not be able to avoid liability for their misconduct due to the unlawful shield of qualified immunity."
4. The hot dog is the ultimate cookout food, and while I can't eat it anymore (and I didn't like it when I still ate meat), I am fascinated by the concept. If you are, too, you can click through to read about this meat tube's origins.