Apple announces change that makes iOS more like Android
And not everyone is delighted.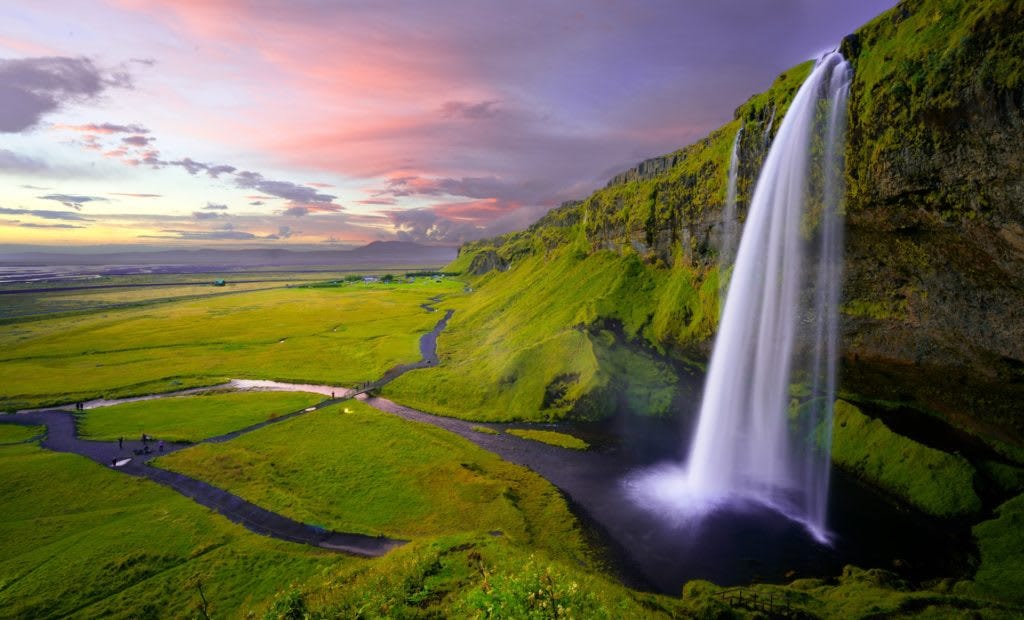 Iceland Waterfall by Robert Lukeman.
---
I've spent a lot of time these last few days hanging out with family for the first since since COVID-19 started, and I am so grateful to have had the opportunity. Good food and wine was had (perhaps too much wine), and lots of laughs. I'm still "off" for the rest of this week, so Sunrise emails may be a little shorter -- especially my intro.
Even though this is a light workweek for me, I still strive to share interesting content with you, especially articles that are devoid of negativity so we can start your day off on the bright side. As Sunrise is still a new publication, I thank you for being here. Your support now matters more than ever as we get off the ground. I truly appreciate you.
On This Day
930: World's oldest parliament the Alþingi in Iceland was established. Alþingi is still the national parliament of Iceland making it the oldest surviving parliament in the world.
1868: Christopher Latham Sholes patented the Sholes and Glidden Type-Writer today in 1868. Sholes and Glidden was the first commercially viable typewriter, though the public in general was wary. Individuals receiving typewritten letters felt they were impersonal. (Imagine how those same folks would feel about email!)
1960: Enovid was approved by the FDA for contraceptive use in the United States. Enovid, along with other first generation birth control pills were high in estrogen and caused blood clots and pulmonary embolisms. These first generation birth control pills were all discontinued in 1988, but the groundwork was successfully laid for millions of women throughout the United States to finally have a choice about getting pregnant.
Meme of the Day
#TrueStoryBro
In case you missed it...
Apple officially showed off iOS 14
Photo from iPhoneHacks.com
Apple hosted its first ever virtual event, and announced some major changes coming out in iOS 14 later this year. The biggest change coming to the iPhone home screen in literally years will roll out with iOS 14: widgets.
In iOS 14 users will be able to place widgets on their home screen in order to have easy access to apps as well as at-a-glance usability. This widgety-vertical tile feature is similar to what's currently available on Android and Windows phones, and if the Twitter replies are any indication, not everybody is lovin' this idea.
Read more here and here.
Not So Trending
Interesting stories you probably missed
Big Companies are Boycotting Facebook
This story made me extremely happy. Facebook is a toxic company, sorely lacking a moral compass. I personally refuse to tacitly endorse their practices any longer, and I have removed my business from Facebook. (You can read about this decision in a post I made on SuvataYoga.com.)
This morning I felt like my long-seeded mistrust and dislike of Facebook was vindicated. A number of big-name brands have committed to an advertising boycott of Facebook called for by top civil rights groups, with North Face, Upwork, Patagonia and more announcing they will not work with the tech giant until "meaningful action" is taken to address misinformation and hate speech.
While I am skeptical and don't believe that one month will really be enough for Facebook to realise they have a serious problem that needs to be addressed, I think this is a step in the right direction.
Read more here and read about Ben & Jerry's position here.
French City of Nice Uses a Firework to Commence Lunch
Photo from ARCHIVES NICE CÔTE D'AZUR.
When the clock struck noon on May 11, the day that France began to lift its COVID-19 lockdown, a celebratory boom echoed through the city of Nice. The midday firework was not a response to the gradual ebb of a pandemic, however—it was a return to a decades-long tradition. "Just like towns have their church bells, the countryside has its roosters, and fields have their cows, for the last 150 years, Nice has had its cannon," Philippe Arnello wrote on Facebook that morning.
In 1886, however, it was replaced with a colourless firework. And, as if the daily firework wasn't interesting enough, every day for nearly 30 years it has been lit by one man, who has been late only twice. The 56-day lockdown for COVID-19 was the longest period in which the cannon and subsequent firework has been silent since the tradition began.
Quick Bites
Morning Jam
Yesterday was a rainy and gloomy day here, and -- for some reason -- that's when I start diving into French tunes. I particularly love Paris Combo, a French group based in Paris. This live version of their hit Fibre de Verre is fantastic.